l Part Two
the time that energy gets back to the receiver, it's ten to the minus twenty- seven watts. You can't even say that. It's twenty-seven zeros. You can't even say that number. It's a trillion trillion trillion trillion trillion trillion trillion trillion of a trillionth of a trillionth of that little watt that you tune to. That's how sensitive our electronics is today. So, there's no problem at all photographing Mars or anything else. They're photographing other galaxies now by sending up satellites to photograph them.
Joe: Armond Bickell, he's still out at the Lompoc. He's about ninety years old now.
(Admin note , as there are many mistakes in this transcription in regard to names of people and places especially. It is not Armond Bickell, it is dr. Armin Bickel
Would have been nice if the person who transcribed this had done his homework… )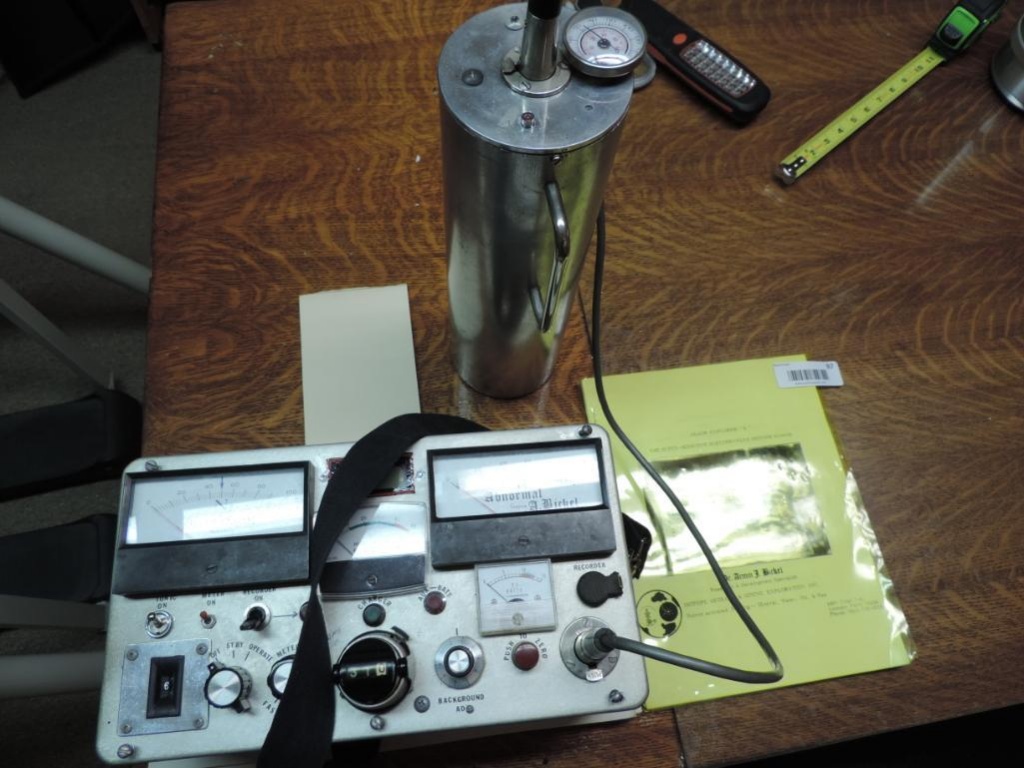 The scintillation detectors that had been developed by Dr. Armin Bickel some 40 years ago in the United States were successfully used to uncover oil reserves in Texas and California, and gold and copper deposits in French Guayana in the seventies. Mobile scintillation counters based on this technology have since been further developed by us. This geophysical remote sensing technology allows locating underground water and oil reservoirs as well as identifying specific radioactive isotopes of chemical elements by measuring gamma radiation.
Dr. Armin Bickel was a member of the NASA team of Wernher von Braun, the father of the Apollo program that sent man to the moon. After his retirement, Dr. Bickel developed portable scintillation counters with very high accuracy. Both von Braun and Dr. Bickel emigrated from Germany to the US after WW II.
Dr. Bickel was an endowed researcher and had a wide knowledge spectrum, most of which is not available anymore today.
However, Dr. Bickel introduced Edgar Gummerum to the "secrets" of his proprietary method of interpretation of scintillation counter signals.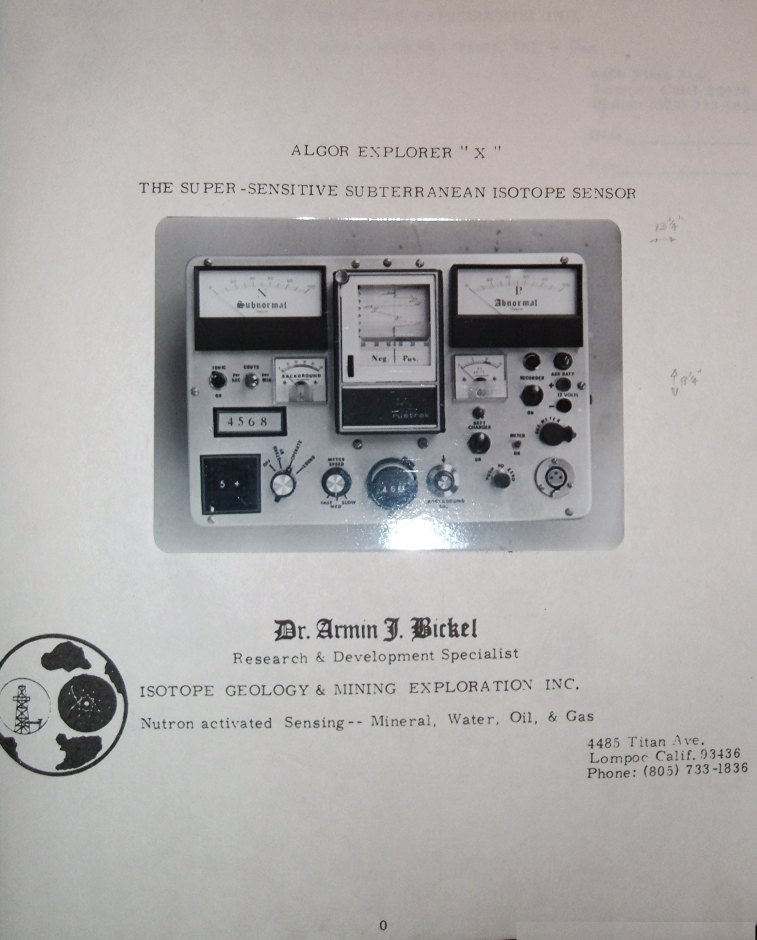 Emigrated means he was part of the so called operation paperclip
smuggling scientists into the US from Germany as dr Bickel, which is not mentioned here….wink wink…was part of the technical crew who designed the V2 rocket …
Phil: He's pretty old now.
Joe: I went to visit him a couple times and even bought a Bickell machine from him. I paid about five thousand dollars for that machine and I think your CGS machine does the same thing a bit better. It's a little easier to understand and you don't have to have a scientist and a PhD to run it.
Phil: Yeah, I know that.
Joe: And Vogel had a machine, I think he called it the Omega Five. I got one of his machines.
Phil: They're all CGS meters.
Joe: And they are CGS meters.. and I got a hold of your unit and I've uh.. I had a hell of a time keeping it.
Phil: CGS is a good name for it. Centimeters grams per second. You just described it you know. Real simple. It always works. About the only expensive thing in my meters is the two coils at fifty dollars a coil. They have to be wound in Germany. The Germans are the only ones that wind good coils. So I just get the coils from Germany because they have to be perfectly matched.
Joe: Jordaine Boyce was doing the same thing with the iron that you were doing over a hundred years ago. But, he was measuring it with a wheatstone bridge. And he was trying to get the efficiency between the two.
Admin note :  they mean Satyendra Nath Bose ) Satyendra Nath Bose FRS was an Indian mathematician and physicist specialising in theoretical physics. He is best known for his work on quantum mechanics in the early 1920s, collaborating with Albert Einstein in developing the foundation for Bose–Einstein statistics and the theory of the Bose–Einstein condensate.
Phil: Yeah, that's right. That's all a CGS meter is a primitive CGS meter.
Joe: That's all it is. It's a primitive CGS meter.
Phil: It's a CGS with a wheatstone bridge.. I'm not lying when I say there's a little bit of difference, but not much.
Joe picks up a photograph of a B-24 and brings it in view for the video camera
Phil: (smiling) That's my aircraft. I'm real proud of that. The B-24. I parachuted out that thing. I wouldn't parachute out a B-17..  the bomb bay wasn't big enough. You could almost hit your head on the side of the thing when you went out. I jumped behind German lines two times I think. I got out of it every time and they couldn't figure it. (chuckles) I'm still cheatin' death.
Joe: See I don't think I could get out of a B-24.. the fellow, the equipment man, Tournegit had ah…no, it's a B-25..
Phil: Torunegit I think his name was. It was a B-24
Joe: No, it's a B-25.
Phil: A B-25 is a little bitty plane.
Joe: A B-25 is so oily and noisy.. it's scary.
Phil: It's a monster. A B-25 is twice as noisy as that big ol' thing. That big ol' thing is quiet.
Joe: A B-25.. I few one from Tucson to Phoenix.. and I was a Christian by the time I got to Phoenix.
Phil: What you want to do is sit in the radio compartment. You gotta crawl through the tunnel. Yeah, I was back in the radio compartment a lot of the time when I few in those things. There was no way out of it. Everybody would parachute outta there but the radio man. He was just stuck there. So, that's where I hid.
Joe: Took you to the top.
Phil: Every time I got stuck in a B-25 I'd say the Rosary.
Joe: Makes a Christian outta you.
Phil: Yeah, made a Christian out of me, you're dead by then. I hated that thing. (points to the picture) That was the B-24.
Joe: They called that the "Liberator".
Phil: The Liberator is a B-24, yeah. The B-24 Liberator…
Joe: ..and the two tails.
Phil: Best plane ever made. That thing.. if you lose three engines you could still land it. You can land that thing with one engine. It had four engines on 'em.. you could land with one engine.
Joe: It had a glide path.
Phil: Yeah, (stretches his arm straight out to demonstrate) It had a twelve degree glide path so it could settle down. Twelve degree angle was real easy. You know, you could cut the power off.. I cut it off a couple times, but never landed it with the power off. I almost had to land it like that.. powerless, it wasn't in too great a shape.
Joe: Halstead was really worried about the terrorists affecting  our water and food.
Phil: Yeah, that figures.
Joe: And the food's coming in from Mexico and other places and they got the DDT's it that we were supplying to them down there.
Phil: In Mexico, they threw DDT around like it's nothing and they still do.
Joe: And, he was worried about what was happening to the future generations of people.. our kids and our kid's kids.
Phil: It wreaks havoc on our reproductive systems.. in Mexico that's for sure. Paramagnetism fxes the reproductive system of insects and it'll sure do it on people too if you give it a chance. Otherwise, the DDT eventually causes sterilization.
Joe: Mrs. Carson wrote the book "A Silent Spring". Rachel Carson.
Phil: Silent Spring, yeah.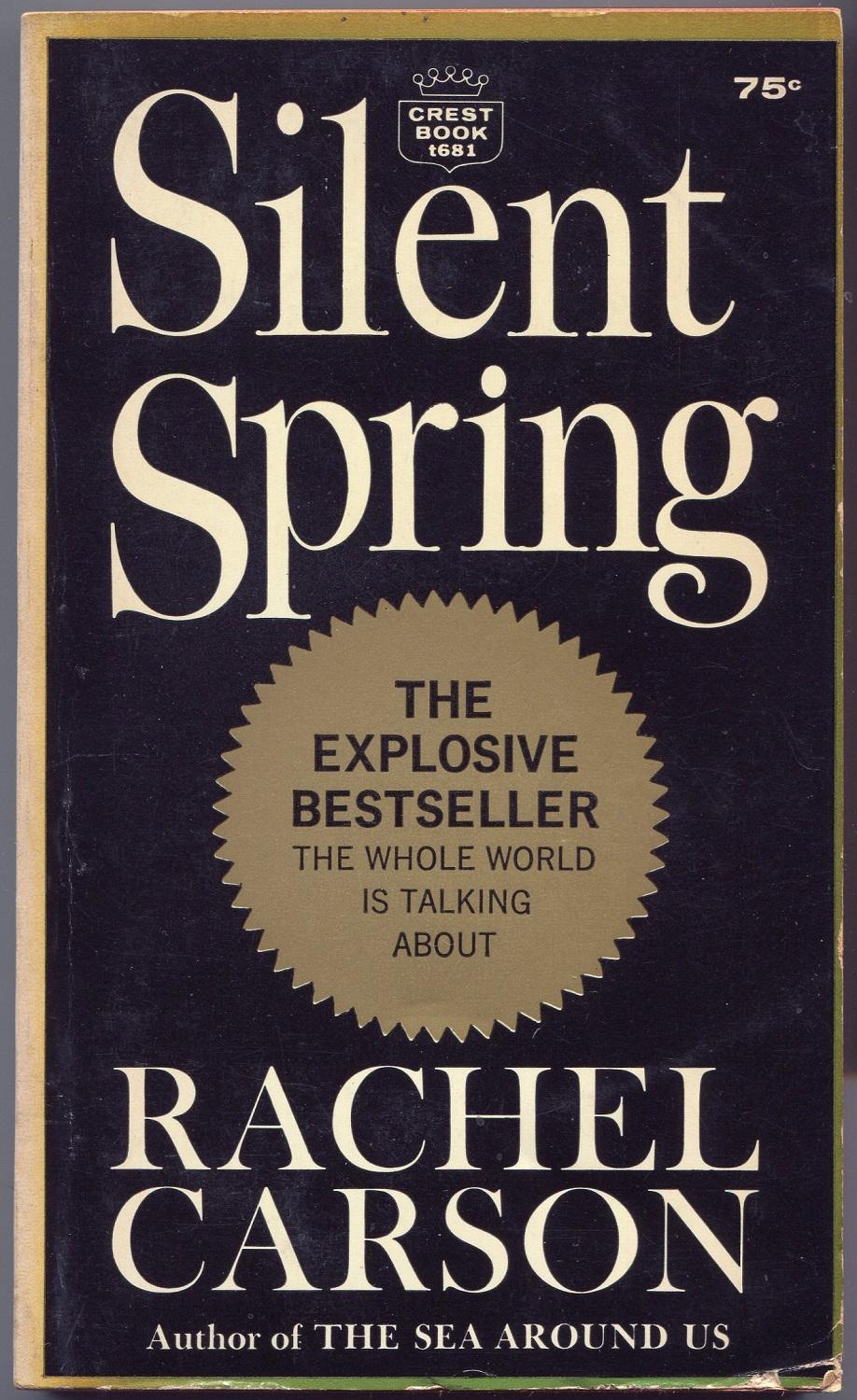 Joe: I think the thing that really caught the people was the fact about what it was doing to birds.
Phil: Really important, yeah, that did it. Everybody loves birds. That did it. But birds…
Joe: ..the way birds go is about the way civilization is going to go too. I believe that if the.. if when we were talking about the canaries in the mines.. there's a possibility that birds can tell you what to eat and what water to drink..
Phil: .. Sure, sure.
Joe: ..and the air that we're breathing
Phil: When I go out in the woods, I don't.. I don't usually take much with me. I just watch what the birds eat and I just eat the same thing. You can get it anywhere, grass seeds.. I'm real big on grass seed. You just shake the seed off and throw it into a tin cup, build a fre, and make a mush out of it. I lived for weeks and weeks in Germany taking no food at all. I just lived on grass seed.
Joe: Sounds a little like Yule Gibbons doesn't it…
Phil: Yeah, (chuckles)
Joe: But anyway, you went on your expeditions and had practically nothing with you. You just took a tiny little survival packet. Why don't you describe your survival packet?
Phil: Yeah, yeah.. I had that little knap sack.. I still got it somewhere. It's that little blue nap sack.. it weighed about.. I never carried more than twenty pounds in it. All I had in it was a down jacket so I wouldn't freeze to death. And a trowel, a garden trowel for diggin' up insects, grubs. That's really all I carried in it was a tin cup and a down jacket and a garden trowel, probably weighed four or five pounds.
Joe: You never took any defense weapons? You never take a knife?
Phil: No. I had a pocket knife for whittling and mostly I'd use it to whittle sticks. If I wanted to roast something, I'd whittle a stick out and put a point on it. Oh, I still got my pocket knife somewhere.
Joe: I'd seen a Swiss knife on top of the..
Phil stands up and finds the knife on the top shelf of a book case not more than three feet away. As he describes the knife, he opens out each part of the knife. The camera zooms with a close shot of books on the middle shelves. Books titles that can be seen indicate birds, parrots, birds of prey, and flacons.
Phil: I still got it. It's got everything you need on it. It's got a blade. It's got a cork screw in case you got a bottle of champagne. It's got a phillips screw driver. Everything's got phillips heads on it. It's got a regular screw driver. It's got a can opener. It's a Swiss army knife.. that's it. That's all you need is a Swiss army knife and a tin cup. (he folds the last part of the knife in)
Joe: They won't even let you get on an airplane with that anymore.
Phil: No.. no.. what I do is.. I usually put it into my little.. I got a little sack I usually carry.
He places his hand over to the right side of his hip where it would go, then he stands up again to show where he places the knife
Phil: I put it in there and they just throw it in the luggage compartment. It goes through that machine and when they say there's a knife, I say it's going in the luggage compartment.. it's no problem. They just throw it in the luggage compartment and give it back to me when I leave. There's no problem with the airlines. They're reasonable. I never have any trouble with them. I don't care it's in the luggage compartment.. they never lost anything of mine.
Joe: You ever been in a place you didn't think you wouldn't get out?
You ever been really close to God?
Phil: Yeah, yeah. Three times I bailed out over Germany occupied France. I thought I wouldn't get out, but I did. Usually I'd steal a jeep. I'd bail out and do what I had to do. And mostly collect data and send it back to headquarters. Then I'd just steal a jeep. The biggest ride I've had was from Munich to Marleena and back to my radio station from Marleena. It was 652 miles. I fgured I.. one time I went from Marleena the other way. I went from Marleena to Belleek which was three miles. From Belleek I went to Bellfast. From Bellfast I went to Larean which is off the coast of Ireland where I cross over the wall around to Scotland which is a strand that rises over the port of Scotland. From there I went to Manchester, England then south to Bilburg. And then from their I'd cross the English Channel from Bilburg to Catileigh.
Joe: You were in hostile country there in England. I mean there were the Irish, the English, the Scots and everybody that was fghtn'..
Phil: Yeah, well I was on the border there.. that was IRA. They hated my guts. The IRA there was about.. well, every teenager born to the IRA was dangerous, but they wouldn't tell you because that was a big deal. But fifteen or twenty of them were and they were fanatics.. they tried to kill me.. two or three times.
Joe: Your job there was to maintain contact with the pilots using radio beams in order to guide them back safely.
Phil: It was a 100 thousand watt radio station sitting up on the E mount. The transmitters were as big as that wall there (Points behind Joe). They were huge and they had coils in them like that (forms a circle almost the size of a hula hoop with both his long arms). Very dangerous.
Joe: You were all there by yourself.. no help.
Phil: No help at all.
Joe: It would ice up.. you had to knock all that ice off.
Phil:  When  you  were  a  radio  commando,  you'd  train  as  a  radio commando.. that's your job.  If anybody tried to knock it off you'd have to kill 'em. You'd keep going and kill anyone that tries to knock it off the air.
Joe: The German's tried to triangulate you and tried to find you all the time.
Phil: Oh yeah, they tried it.. they'd try to find me. I outwitted the Germans. I outwitted Germans and the IRA. They tried to find the station all the time. I had a parrot that would start saying "how you doing" as soon as anyone got close. And when the parrot would start saying "how you doing" I'd just go out in the woods. I had my forty five. Took it in my bag here (points to his hip). I never used it. The Germans would come by and look at it [the radio station] they wouldn't even know what it was they were so stupid. The Nazis would come look at it and never blew it up.. they didn't know what it was. They thought it was a broadcast station for the news.  They thought we were putting out news for Good Morning America or something (chuckles).
Joe: I don't know if I understand you or not, but the Germans would send out two beams and when the German planes would fly they'd find those beams and could zero in where they crossed and that's where they dropped their bombs.
Phil: (points his two index fingers outward and crosses one over the other) So what I did was send out another beam so that it crossed over the country side in cow pastures where they dropped all their bombs. They never hit London. They never dropped a single bomb on London.
Joe: And all of it was secret. You'd never tell anyone about what you were doing because..
Phil: As soon as I get the Medal of Honor we'd probably find out that the British were gonna give me a Victorian Cross and the Jewish people were gonna give me a medal for shooting if I ever get a document out of them or so. I drove six-hundred and fifty-two miles from Marleena to Germany and crashed through the gates of Dactou Germany. I remember I did it and came back all through enemy territory.
Joe: (chuckles) Well things got boring and you come back and "marry your girl" as the English put it.. or your misogynist used to say.. Anyway, you put it off for a couple years and you roamed around the world.. she waited for you.
Phil: Yeah, yeah, walked around the world.. thirty three thousand miles. I fgured it out.. it was thirty three thousand miles I walked. This fellow here was with me. This Jewish fellah..
(gets up and pulls a picture from behind Joe. Joe holds the photograph in view of the video camera)
..Colonel Blesney and I.. of course he couldn't go through the middle east. He was Jewish, so they wouldn't give him a visa, and so I crossed the middle east myself, but I met him back in London. He's my closest friend.. he and I hiked around the world together except the middle east. I was by myself there. I walked with Ken Silver and Irwin Pless all over Europe. I met Ken at the railroad station in London and Irwin in Japan. He was a radio navigation systems expert in Japan. We were both radio navigators and built the systems for Collins Electronics in Iowa.
Joe: Well, you went just to observe. To see what you wanted to see.. to see how people lived.
Phil: I learned more from the Arabs and the Bedouins than anybody. The Bedouins lived in the desert on nothin'. That's where I learned most about the desert.
Joe: Don't you remember what Green said?
Marilyn: He said his grandfather was a Bedouin. He said he'd love you and his grandfather to get together. He fgured you two would get along fne even if you couldn't understand each other. He said you reminded him of his grandfather.
Phil: You go into a Bedouin camp and eat yourself to death (chuckles). You know they give you the goat's eye. I never liked that too much.. the eye didn't taste all that good. They'd kill a goat.. the eye was a delicacy. More than once I had to kind of hide it (shows how he would get rid of it behind his back).
Joe: (laughs) Hide it behind your back!
Phil: (Chuckles) But that's what they always gave when they welcomed guests.
Joe: They get by with very little water. They didn't have much sanitation yet they're pretty healthy people.
Phil: They know about paramagnetism. They do the same thing I did.. put some paramegnetic rock in a canteen and it wouldn't evaporate anymore. They used paramagnetic rocks to keep the water from evaporating.
Joe: The Romans took magnetite, Fe3O4, and put it inside their troughs that they were delivering their water with.
Phil: Sure, no evaporation. They put it in the bottom of the troughs. They knew that from watching streams, they could see that not much water would evaporate from streams. They found when the rocks were out of the irrigation ditches the water would evaporate. So, they'd put rocks into the bottom of the irrigation ditches.. it would stop the water from evaporating.
Joe: Very few people picked up on what you were doing on paramegnetic attraction to water. And, yet, the deserts could beneft from that more than anybody else.
Phil: Well that's the beauty of how God takes care of things. I won't even talk about stuff like when they give me a Medal of Honor. They won't make a paramagnetic speech. Then it'd get all over the world and then everybody'd believe it. No problem (smiles). See, they don't experiment.. if I go to the Warren experiment station and give a lecture, they'd believe it, but when it gets in a book they don't believe it.
Joe: How could they not believe it when you look at Tucson and how desert it is. It's got twelve inches of water a year. Look over here.. you got twelve inches of water and look, everything is green.
Phil: It's green as can be. Tucson doesn't absorb paramagnetics. Around here there's no desert. It's green forest with small trees. (points out the window) Those trees are only about thirty feet high most of them. They grow out but don't grow up. They grow outward.
Joe: In Mexico, let's say, Guaymas.. Guaymas has the same rain and the same temperature as Hawaii. But Hawaii's got all this green and everything else.
Phil: It's all magnetic. Hawaii is a paramagnetic volcanic island.
Joe: It's paramagnetic volcanic ash.
Phil: All you gotta do.. it's common sense to take a look at Hawaii and say it's  volcanic.  Then you go get the rocks  and  see what's  in it.  I invented the word paramagnetism because it's a  weak  magnetic  Field. Para means weak.
Joe: Paramagnetics is a balance. It's not about the north pole or the south pole.. it's about the balance of life.
Phil: It's the balance of Ying and Yang as the Chinese used to call it.. called it biomagnetism or paramagnetism. Ying and Yang, up and down, to the Chinese Yang is female magnetism and Ying is the male.
Joe: It's so confusing. To the English.. everything they write about.. the north pole is the south pole and the south pole is the north pole and if you try to read universal stuff you can get mixed up pretty easy.
Miniature ceramic representation of Biddy Early's house
Phil: Our terminology got all mixed up and it drives people crazy, so they just give up on it. Cause if you read one book, it's got the English terminology, and the other one has the American, and yet another one has the French so you kinda of give up on it. (Phil turns towards Joe and points to miniature hand sized houses made of kiln fired clay) Those little houses.. one of them is paramagnetic and that one is Biddy Early's house. Biddy
Early was one of the greatest healers that ever lived.. there's no question about that. It survived many years preserved like that and a couple generations later they came along and just tore it down. But, she was probably the greatest healer that ever lived. She had a blue bottle and put rocks in it. Of course the sun would hit the bottle and the blue light would energize the rock. Then she'd give that to people and it would heal them. So that's how I figured out she was healing people. If you go to Ireland, everybody'll tell you who Biddy Early is. They'd say, "Oh, she's a healer". She learned it all from sitting at the face of a rock and she knew it was magical. She'd take a little piece of paramagnetic rock and put it in the bottle. When she died, she threw the blue bottle in the middle of a lake. It sunk in the mud, but I spent a week down there looking for that bottle. I never found it.. it's down there in the sand no doubt.
Joe: The blue bottle would be more likely cobalt, wouldn't it?
Phil: Cobalt is what it was. It was a cobalt bottle.
Joe: So, that goes back to Tesla's testing using cobalt coatings on aluminum.. Ying and Yang.
Phil: The ancient people put cobalt in the blue bottles because they knew it would make the water healthy. So all the blue bottles were made with cobalt. Still are.
Joe: Goes clear back to the eye of Alexander doesn't it.
Phil: Yeah. I got a blue bottle around here somewhere.
Joe: It's up on top (Joe points the video camera to the top of the book shelf. It is a square shaped cobalt blue bottle) the eye of Alexander was cobalt. After that, the Egyptians worshiped blue.
Phil: Blue was the sacred color for the Egyptians and Mesopotamians in general.
Joe: The royalty too.
Phil: The royalty and everybody. All that stuff was in the ancient religion. That picture up there.. I bought it.. it was by a famous Japanese artist. I found it for sale for about a hundred bucks at some store and somebody told me it was worth thirty or forty thousand dollars. Japan's most famous woodcut artist.. and the only way I knew it was real was because I read in some ancient literature that the women used to get those for gift cards on their birthday. You'd get those on your birthday.. they'd fold it into four and put it in their pocket. That's why there four creases on that.
Joe: That's how you can tell it's real.
Phil: Yeah, that's how you can tell. I bought that for a couple hundred dollars and took it into the museum in Tokyo and they said, "oh, it's probably worth ffteen or twenty thousand."
Joe: Now, paramagnetic stone that's fed to gardens.. plants can take the life energy from that while it travels within the innards.
Phil: It goes right up the flow up the cortex and the outer layers of the plant. Most of it is in the outer layer. The outer layer is the bark and the inner layer is the cortex.
Joe: Dr. Rickets took your paramagnetics and lignites and mixed it together to grew carrots and radishes. He would get eight and nine hundred percent more vitamins and minerals. And the iron oxide..
Phil: ..It takes your vitamins and makes them ten times better.
Joe: So, most of the food we're getting now has one tenth the vitamins and minerals.
Phil: That's why you're better off eating green vegetables. Vegetables used to have vitamins, but now only your organics have them. Most of the vegetables grown are organic green vegetables, so most of it is safe. This country has gone organic.
Joe: When iron oxide gets into these plants it becomes collective of solar energy. It becomes  hot. Paramagnetic iron oxide gets ten times hotter than any other dirt or soil around it. So, that energy is transferred.
Phil: That's why if you take one of these little balls and roll it around in your hands it gets hot. It's not your hand warming the ball.. it's the ball warming your hand. It takes energy right out of the atmosphere.
Joe: We were talking about this lady that was taking paramagnetic rocks and putting it in a blue bottle. It would then structure the water.
Phil: Yeah, the sunlight enters the bottle passing through the cobalt blue glass and energizes the water that surrounds the paramagnetic rock. The sunlight in the room.. it doesn't matter if it's inside or out, enters the bottle and stores energy in the paramagnetic water. It's like a radio system.. it stores it. The radio has stored energy. It puts a signal up to the transmission station, stores it, then puts it right back down. All electronics have stored energy.
Joe: Energy, we're not really measuring it at all. There's probably more energies than we realize out there. There's ffth energies and sixth energies.
Phil: I discovered another one.. it's called paramagnetics. They didn't even know much about that.. they didn't know it existed. It's a weak electromagnetic energy that nobody considers. I named it paramagnetics because it's like a parachute. It's a weak thing.. parachutes don't weigh much, but it'll keep you from getting killed when you jump out of an airplane. It's a weak energy.
Joe: Now, when you heat paramagnetic energy at high temperatures, it changes. It doesn't have the magnetic attraction, but there's still another energy there. What's that one?
Phil: It's infra red. No question about that. When you heat it up you generate infra red. You got paramagnetism that is a transmitter and infra red is the signal that's going out. Paramagnetism is an object itself.  What it does is takes the infra red energy that comes out in the infra red spectrum.. so you got sixty two angstroms, eighty two angstroms, ninety nine point six, sixty two point eight angstroms. You get them all lined up and you'll fnd out that those are the ones that are all healthy. You get the wrong ones and you fnd they're poisons. (Phil raises his hands and brings
them together aligning his fingers from his left to the right. He's demonstrating an alignment when he shifts the fingers of both hands slightly spun off center to show a misalignment)… these are the angstroms that are tuned and these are the ones out of mesh.
Joe: That's what Halstead was worried about.. that these terrorists got the tunement and could actually take a frequency and put a plate underneath an aspirin bottle then tell you what aspirin was in the bottle. But they could also tune it to a bad frequency making it poisonous.
Phil: Yeah, you can take any medicine and put into a blue bottle and place it in the sun. If you sit by it, it'll cure you just as fast as taking it.
Marilyn: You said cure you, not kill you…
Phil: Cure you, well if it's a good energy, like perfume, it'll cure you, but if it's a toxic frequency, it'll injure you.
Joe: Now, so this is going to Pasteur's work.
Phil: He didn't know the physics of it, but he knew what he was doing.
Joe: He called it memory.
Phil: Everything has memory. That plate on the wall there has memory.
Joe: If you're cleaning water.. dirty water won't pick up memory.. it has to be clean water, but if it's paramagnetic clean water that's run over iron crystals, then it'll capture an image just like audio and visual tapes.
Phil: You can take a laser and focus it on the image of the falcon on the plate there (Phil points to a decorative plate across the room) and the image will foat right out here in the room. Yeah, you can take a laser which is coherent energy which means the waves are going out together instead of separately. You can point that at any picture and that energy.. that picture will foat out here in the room.
Joe: That's why you point a laser at the moon you want concentrated in a straight line.
Phil: When a laser leaves the Earth it's about a millimeter across, but when it gets to the moon it's about an inch across. It doesn't expand any.. it doesn't spread much. Atmosphere scatters the photons which is why it spreads a little.
Joe: So when Dr. Benson was working on.. he had to use quartz lenses or lights or tubes, he put the magnets on the back side and then put the magnetite iron on to the side and then shot the laser through the quartz.. he couldn't do it through glass.. he had to use quartz.
Phil: Had to do it through quartz because glass won't work. Glass is a mixture of everything and quartz is pure is a pure crystal.
Joe: So he's got the frequencies going right through the end of the iron and when the water fowed over the iron it would clean it. Now he told me one thing. He said, "Joe go drill a hole in the top of a pipe on the road somewhere close to this and put  a piece of Gore-Tex [polytetrafuoro- ethylene, or PTFE]. He said Gore-Tex will let the gas go, but it won't let the water go through.
Phil: That all came from me. I used to fll polyethylene tubes with it and drive it in the ground to grow big trees and plants. You can drive the tubes into kiln fred pots or in the ground to grow your your plants that way. I had a garden like that one time.
Joe: I can't remember the fellows name, but he had a place called Union Gardens he called it.
Phil: Hugh Lowell is his name.
Joe: Yeah, Lowell had some of the most beautiful stuff I'd seen in my life. What he was doing was taking rusty pipes, closing the bottom end and filling it half way with magnetite with a crystal in the middle, and filling the rest to the top. And at the top he had a screw and would turn that down putting pressure on it. He had some of the most beautiful plants I'd ever seen in my life.
Phil: I did talks on that.
Joe: I know you know the man. He's from Brightonsville, Georgia, and he's got Union Gardens.
Phil: What's his name.. I can't think of his name.
Joe: I'm trying to think of his name too.
Phil: Connors or something..
Joe: Connors was that woman.. no, that was right next door, Connors is that woman who had those visions.
Phil: Yeah, but her name.. Nancy Fowler was her name.
Joe: Nancy Fowler. I went over and visited two or three days with her, and they had a migration come over there of Catholics from all over the world. They had so many people that they didn't have any place for them to go to the bathroom. So, they brought in close to fifty toilets.. port-a- potties, and there were people arriving in Greyhound buses from thousands of miles around. She was a very simple woman.. very nice.
Phil: She was a close friend of mine. I'll bet they tried to shut her down. When I went up there, he changed his mind in a hurry and started preaching about her.
Joe: I was impressed by her.
Phil: Oh, she's for real.
Joe: Christopher Bird lived just a little ways from there.   Remember when I brought those papers from there?
Marilyn: And her message was very simple too.
Winnie: Very very simple.
Joe: I really.. I was so impressed with her. And there were all these people coming in on busses.. it must have made her mad.. there must've been a couple hundred buses.
Winnie: And they all wanted to see her.
Joe: They all wanted to see her.
Phil: And all you had to do was be yourself and quit being uptight.. just by playful like it's a big game.
Joe: Now, she didn't have any special education.. it's as if she was tuning in..
Winnie: She was tuning into God.
Marilyn: She is a nurse.
Phil: She was a nurse.
Joe: I told you I had these pads that I made with paramagnetics and I took them to the hospice where people were dying. I took hundreds of them to these people. They liked them.. particularly if I put 'em in the freezer to get 'em cold. I'd seal them because if I didn't, they'd stink. The doctors would come along and throw them away.
Phil: The chemical doctors.
Joe: And the nurses too.. nobody would ever believe that there's something about these energies. Particularly if you take and set it in the sun.. and one thing about them that you told me is, you wash them in sea water. Now I'm not talking processed salt.. sea salt.
Phil: Sea salt. Health food store has sea salt.
Joe: And something I found out when you put seaweed with it.. you take and pulverize the seaweed.. there's something about the kelp with the iodine and a couple other things with it.
Phil: Seaweed is the best, and of course the Irish farmers would get it from the coast where it was, break it up and dry it out, then spread it out on their felds.
Joe: Seaweed mixes great when you sonically grind it and mix it with iron oxide and lignites… you can't believe the way it grows.
Phil: It's all common sense. The ancient people knew all this.
Joe: Seaweed works best without being washed. Don't ever wash the salt off it. Leave the salt right on it.
Phil: You leave the seaweed alone. It's common sense is all it is.
Joe: Explain the sonic grounding I'm doing it with.
Phil: Well, you're not actually touching it with something like a hammer you're getting more pure iron than you need. When the iron comes off the hammer or whatever is used to pulverize the iron oxide, molecules come off the metal head and contaminate the magnetite making it too strong. When you use ultra sonics you're not touching or upsetting anything. The material stays more natural. Stick with nature.
Joe: You're staying with nature.. staying with balance.
Phil: That bird you hear chirping is not the chirping. It's the ultrasonics it's putting out to me. But I don't talk in ultrasonics so the bird's wondering why I don't talk back. When I go in there and run the water from the faucet, the water passing over the iron from within the pipe puts out ultrasonics and the bird will start talking like mad.
Joe: Now if you took a crystal, like a bowl with crystals there and put water over it, it would intensify the sound.
Phil: It would intensify the ultrasonics and that bird will start talking to you. It's not the sonics a bird pays attention to, it's the ultrasonics.
Joe: When you take these iron oxides, the Fe3O4 particularly, the high gauss CGS of nineteen thousands.. sprinkle a little around where people have sprayed for insects.. what's happening?
Phil: Well what happens is the good stuff happens. In other words, God has created the earth so there's good and the bad. The bad is the insects that don't belong there and the good are the parasites and predators that eat off the insects which destroy your crop. So actually, you want them because they're the good insects. When you put down paramagnetism, you'll attract the good insects and repel the bad ones. That's the way God designed it. I don't know why, it just seems that's the way God designed it that way. The bad insects just disappear. If you take what like I got near my window sill… (Phil gets up from his chair and moves towards his window )
Joe: What are you looking for?
Phil: I had one there. This little rock. I just put an antenna on it.
Joe: Oh, look at that Marilyn. I pick these up every time I go to the store because I put paramagnetic soil on them, but I didn't put an antenna on it. See, I learn something every time I come.
Phil: (Phil takes the plastic cap off of a 3 inch long white prescription like container) This is paramagnetic rock with a nail in it.
Joe: See Marilyn, the nail or the screw goes right down through it and it's got an antenna on top.
Phil: The antenna makes it about ten times stronger.
Joe: Now, the guy would take this and fll it with iron oxide, the Fe3O4 and put it around anywhere you need to diffuse weak feld magnetics…
Phil: You can put this in your room and you'll never get sick.
Joe: You put that by a TV or anywhere you have radiation.
Phil: You put that by the TV and that's the end of the bad radiation.
Winnie: But it also keeps the ants out.
Joe: would it be better with copper or just regular steel?
Phil: Copper or anything. It doesn't matter. Marilyn: It also keeps the ants out you said too? Phil: I've never seen an ant.
Winnie: Ants don't come in anymore even at the door.
Joe: Marilyn's got them all over the house. I can see that now!
Phil: All you gotta do is go out and get pieces of paramagnetic rock or granite or basalt, whatever, and put a nail with it. You don't even need the antenna on it.. I just put it there to pick up the container.
Joe: Now, I put crystals in with the iron oxide.. and I put those together..
Phil: That'd make it even better..
Joe: And what about when you squeeze it.. put a little pressure on it?
Phil: When you put pressure on it, it's called the piezoelectric  effect and it gets stronger. piezoelectric effect generates electricity so you're putting energy into it. It's like an electric generator, like a motor. It even drives insects away from ten yards off.
Joe: Those little balls I made over there.. I could actually put a pin in them or do anything else to make an antenna on them.
Phil: Yeah, an ordinary straight pin.
Joe: In the hyperbaric chamber with sodium silicate.. that's quartz crystals isn't it?
Phil: You just drive a stainless steel pin in it and it becomes ten times stronger. We don't get those sugar ants anymore because it's too strong. They don't like to go where there's high paramagnetism and keep away from it. But, if you go out to a harvester ant hill, they cut the leaves so they can get them down and the leaves slowly ferment of which they feed from. If you go to the harvester ant hill, you'll notice the mound is white and pink. The ants bring quartz and pink granite pebbles ant by ant and cover the whole ant hill with the stones. So, you've got a paramagnetic and diamagnetic hood over the cone of the mound. It's a paramagnetic layer that covers the ant hill.  If you go out here about a half a mile, there's a harvester ant hill and if you look at it, it's white and pink. It's just common sense.. ask yourself, "what does the ant do?"
Joe: You just had a good thing there.. a blue bottle with a couple energy balls.. put it in the sun..
Phil: ..in the sun..
Joe: ..and drink the water.
Phil: ..and drink the water and you'll never get sick.   You put these around the house and never get a cold.. whatever you call a cold (laughs).
Joe: Now, what if you took one of those metallic möbius' that Tesla was talking about, for instance, that was made out of audio video tape. You put a möbius inside that and tap it with a nail. Is that what you're talking about?
Phil: If you make it counterclockwise it'll be good, but if it's clockwise it'll probably ruin you.
Joe: Counterclockwise..
Phil: ..counterclockwise, yes.
Joe: That's exactly what Tesla said. "To the left… always to the left."
Phil: The Irish people for centuries.. they don't do it anymore.. I don't know why, but if you took a church, like the one at Nock where that statue is from which is a paramagnetic limestone church, they would warn you to never walk around it clockwise. They walked around it counter- clockwise. Never walk clockwise because it would make you feel sick. Still does.. if you walk around that church clockwise.. I did it one time to see and ended up sick to my stomach. I was throwing up all night long.
Joe: The Indians have these medicine wheels and they always go to the left. Nobody's ever understood this.. if you take a Mobius and turn it upside down it should be opposite, but it isn't.
Phil: No, because it's got a hundred and eighty degree twist in it. It's got no one side to it because it's an infinite loop.
Joe: There's no up or down on it. When you drill a hole in a Mobius, where does the energy go from?
Phil: The energy probably separates and goes around the hole. Some of it might fall in the hole, like a hole in a water pipe, not much though because the energy's too fast just like water goes around a hole in a fast stream, it doesn't go down except for some.
Joe: If you were to wrap one of these as a capacitor with the gold foil, would that intensify it?
Phil: Yeah, if you wrapped it to the left. If you wrapped it to the right it'll probably make you sick. If it's counterclockwise it'd probably cancel the effect of being sick from one that was wrapped clockwise.
Joe: The mind.. you're doing this with your mind and the fact that your mind is doing it to the left. Do you think the human mind has something to do with the energizing aspect?
Phil: Doctors know that.. that your left mind is your thinking side. Your left side of the brain is the side that reasons. The right side is the one for language. Your right side memorizes like for language and your left side reasons. They've known that for a hundred years. Tesla said that. He realized he was thinking with the left side of his brain.
Joe: I gave you one piece of paper there. I saw Syd's paper on that and he quoted me on it. Tesla said that the only way we could protect ourselves from detrimental magnetic felds was to use a metallic Mobius wound to the left.
Phil: Everything in nature that works is designed counterclockwise. Once you go against the energy of the sun it becomes excess energy. You can't handle it so you make sure it goes on the left side of the brain there.
Joe: These little things can be tested so easily… using birds for example..
Phil: The reason why people are so sensitive is because they have an excess on the left side of the brain.
Marilyn: I have a question about direction.. is that also true south of the equator?
Phil: There's a big debate going on now and the way I… every time I fy south of the equator which isn't anymore, I don't know if the airplane was canceling it, but I didn't get any real difference, except one time I was in the jungles of the equator, I got the impression.. I didn't stay there long and I didn't have my CGS meter with me either so I couldn't make sure.. but, I got the impression if you stayed at the equator.. if you went around in clockwise circles, you'd get sick. I didn't stay there long enough, but I had the impression I didn't feel as good.
Joe: I'll have to check that one out.
Marilyn: But, if you went south of the equator..
Phil: South of the equator it's the opposite..
Marilyn: So, south of the equator you'd want to go around the church clockwise.
Phil: Clockwise, right.
Marilyn: Okay, that's what I was wondering.
Joe: On our fortieth anniversary, our kids gave us a boat and we got down to the point where the boat was using seawater to flush the toilets. I went in there to use the toilets and when I flushed, it went the wrong way. So, I spent an hour sittin' there looking at it flushing.. I got myself a bottle of booze and watched it go 'round and 'round. I thought I'd lost my marbles.
Phil: You gotta be careful because of the natives and headhunters south of the equator. I had a hard time trying to explain to them, but they wanted to do the opposite of what I was talking about. I fnally got to the point. Robyn or Raymond.. I can't think of his name at the moment.. Robyn was a scientist.. Raymond was a famous shaman among the headhunters. He was a friend of mine and probably the funniest part of it was.. I had a Cessna two ffty and the pilot was a major in the Peruvian Air force.  I was a copilot of course and the shaman wanted to fy.  So we
got him in the plane, but when it started, he was terrified. He got in the back seat and huddled there and we finally had to land him in a cow pasture. We thought he was gonna die. He was so afraid of that thing. He wanted to be in it so bad but then we had to land in a clearing and let him out (laughs). He said he'd rather walk back home.  And he did (all laugh). He had about a twenty mile walk.
Joe: Burt told me one time that.. he was talking about some people.. the indians.. that there'd be Spanish boats that would come into the harbor.. the Indians would look at them but couldn't see them. They never had anything to relate to that boat so they couldn't see it. Not until they took them out on a boat littler than that and take them to the ship and after that they could see it.
Phil: That happened to me with birds. Some birds you can't relate to cause you really don't like them. Sittin' right in front of them and you can't really see them. Bird watchers sometimes tell me, "How come you always see a hawk, but you never see hawks?" Well, because subconsciously you don't like hawks because hawks kill other birds, so you don't see them. But I can see a hawk now in the corner of my eye. It can be a couple miles up in the air and I'll still see it.
Joe: I was down in Brazil one time and there was a tree sitting out on the plain and it had these beautiful leaves I've ever seen in my life. They were forescent. So I took this land rover and drove over to it and as I got near all the leaves few away. It was a dead tree. Something shocked the hell out of them.. the leaves just blew away!
Phil: The birds were sittin' on it. They love those trees. Hawks always pick on that tree. I used to when I was younger about sixteen or seventeen.. I would hardly ever look for hawks nests.. I'd just get a little white mouse and put him in a wire cage and make a hundred loops using wire. A wild hawk would come down to get the mouse and get caught in the wire loops.   I'd take the hawk and tame it.   Most people never get them tamed, but I can in three days. I could tame a hawk and it would be a perfectly wild one. Sometimes you'd lose them because they get out of sight and you couldn't fnd them. I'd never bother with looking for the nest, I'd trap them in Ireland and just train 'em. I'd trap kestrels, but I didn't want to hunt birds anyway. I'd trap rats and mice instead. Kestrels hunt rats and mice. There's a book around here an English friend of mine wrote. I was just reading it this morning. It's somewhere here near the couch. There it is.. "Lure of the Falcon".
Joe: I read your books. I think I know everything I know about your books, but I read them over and over and there's always something that I miss.. that I always pass by. I'll pick up something after the tenth or twelfth time or whatever. There's something there that wasn't  there before.
Phil: That's why I write 'em. A lot of people interested in nature.. they love my books. They buy 'em. Acres can't quit printing them.
Joe: I wish the old man's eyes would get a little bit better.
Phil: Yeah, that's a shame. Chuck Walters is a genius in agriculture.. an agricultural genius if there ever was one.
Joe: I hadn't seen him in a little bit and I was up there.. I can't.. it's just hard to believe he's going blind.
Phil: I tried to tell him to use a little paramagnetic rock in his orange juice. I don't know why people don't listen. I told him, "if you put a little ground up  paramagnetic rock in your orange juice it'll probably cure you." He never did.
Joe: Oh, what if I took a quartz tube, like a test tube, with paramagnetic nineteen thousand CGS, and even seal it at the top and put that in there.. would the vibrational frequencies go through quartz.
Phil: I usually put it in plastic tubes, but quartz would be a lot better. Plastic is diamagnetic and quartz would be stronger and you wouldn't need a nail any more.  It would be just too strong and you wouldn't need a nail.. it'd be so powerful it would cure anything.
Joe: If you took a copper coil in there and coiled it to the left and put it up like an antenna.
Phil: It would make it a little better.. probably make it an eighth or a quarter better.
Joe: Silver or gold?
Phil: Silver or gold would make it a little better.. by a quarter or stronger.
Joe: If you put a little pressure on the crystals…
Phil: It would make it better.  Clamp it using a little pressure, not a lot.
You'd have a powerful healing device.
Joe: We're talking about several different energies aren't we.
Phil: That's piezoelectric energy there. You can imagine piezoelectric energy to infra red energy.. all transistors work that way.. transistors are piezoelectric.. So, that's the transmitter, and what comes out is electrical energy as a radio wave. That's what works in an airplane you talk about a vacuum.. if you stop to think mathematically using a little integrated calculus, the vacuum the plane couldn't possibly get off the ground. The plane is so heavy and the vacuum is so weak it wouldn't work. That's what's in all the books. The electrical and aeronautical engineers say it can't work because there's not enough energy and I'd say, "well, look at this.." and I plugged in some calculus formulas on the board to show how it worked. The airplane is made out of aluminum and the skin of the plane is cloth.. that's diamagnetic, and oxygen is paramagnetic, then the whole thing lift.
Joe: What if you put little scales like on fsh?
Phil: That's why the fsh can move upstream. They use paramagnetic and diamagnetic energies.
Joe: What if you put some on a model airplane?
Phil: Well, they'd probably levitate in the air.. the fish would float above the tank and they wouldn't stay in the water (Joe and Phil laugh as Phil demonstrates with his hands what it would look like). I did that once, not with fish, but I did that with a bug once. I took a needle and generated a paramagnetic force on the bottom and a diamagnetic force above it and it floated in the air. An entomologist came along and said, "Well, it's flying". Well, beetles are heavy because they have the heavy wing covers, elytra. Well, it can't be flying they say "it's too heavy.. it can't be foatin' in the air like that."
Joe:  Well,  they  said  that  a  june  bug  or  a  bumble  bee  can't  fly.. aeronautically it's impossible.
Phil: They don't know about paramagnetism and diamagnetism.
Joe: You think that's why the june bug and bumble bee can fly.
Phil: The oxygen is paramagnetic and the june bug and all insects are mostly water just like people. You're mostly diamagnetic because of the water. I couldn't even measure the paramagnetism in your body because you're mostly water and that's diamagnetic.  I  could measure  the diamagnetism real easy, but it's hard to measure the paramagnetics because there's so little of it.. you're about ninety-eight percent water, so there's just a trace of paramagnetism in your body.
Joe: What energy are these dowsers tapping into. Is it paramagnetics?
Phil: Yeah, it's paramagnetics. They take a quartz crystal on a string and can tell because your body oscillates back and forth from diamagnetism to paramagnetism. It just goes around in circles.
Joe: Now, Walter Gurniak.. you met him from Cornell.. he died this last year. He told me that if you take a cotton cloth or silk string and cover it with bee's wax..
Phil: Sure.. the cotton string is paramagnetic and the bee's wax is the magic substance. Bee's wax oscillates from paramagnetic to diamagnetic states. So, pretty soon it starts to twirl around in circles.
Joe: It's a hermaphrodite, so it goes both ways.
Phil: It goes both ways.. so is your body, it oscillates back and forth.
One second it's diamagnetic and the next its paramagnetic.
Joe: That's life. Life in balance
Phil: If your body goes totally diamagnetic you're dead.
Joe: You knew Coates Perth and the psychic, Thelma Moss, who did
that work for "Psychic Discoveries behind the Iron Curtain." Well, Coates has come out with a new flm in the theater.. let's see if I can get you a copy of it and mail it to you.. what the hell was the name? What do we know.. what the hell do we know..?
Marilyn: What the bleep do we know.
Joe: What the bleep do we know. And in it there is a lot of people.. it's very good.. and they're talking about things we're talking about.
Winnie: Oh, that sounds interesting.
Joe: You knew Coates up at the UCLA.. I remember her in the lab, she carried her baby around with her on her back like a papoose. She's a brilliant lady.. I loved her, but I looked at her in this movie and she's old.. I haven't looked in the mirror myself.
Marilyn: There's a little story built into this movie. She did a lot of interviews with these people all through the movie.
Joe: I saw this movie and really enjoyed it. It's just that I knew a lot of people who were in it. Just thought I'd mention it because it really makes you stop and think. We really don't know much.
Phil: I knew Edgar Casey real well. He was the happiest man in the world because everybody would bad mouth him and everything else until I came along and explained it all to him. Then they stopped bad mouthing him. He used all this stuff, but didn't know how it worked until I explained it.
Joe: He got that from dreams. I never met him but I met his son. He's got a clinic in Arizona on Fortieth and Indian School and they treat people for cancer and all this other stuff. He's got a couple of medical doctors.. Mr. and Mrs. Grady. I took my mother up there before she died.
Phil: He wanted to save the Black Forest. The Black Forest, because it was non-linear, well, it wasn't a mixture of bushes and trees and plants, therefore, it got sicker and sicker. I was talking to Casey one time and he mentioned it to me. He asked about it and all I said was what I noticed about streams. Streams serpentine through the forests and all the fsh are happy and all the bugs are happy and everybody's happy. So I suggested he make a big stream. He got tons of lumbar and made a trough. He collected snow water from the mountains somewhere north of the forest and sent it down the trough through the Black Forrest and it recuperated. They give him the credit for it for saving the forrest just by listening to me.
Joe: Now, the mineral that's in that water that's grinding on the snow is where the diamagnetics is showing up. What about the people in Tibet and all up in there that drink the glacier water?
Phil: Same thing.
Joe: You knew Betty Morales real well
Phil: I never met her, but I knew of her.
Joe: Betty went over there and brought back a couple jugs of water. I got in trouble during World War II when the Russians were there. I had them ship me water from all  over.. the rivers and spas, and I found magnesium sulphate of all things, and that was one thing that helped kill pain. I played with water all my life.
Phil: Good water is built with chemicals that make it good.
Joe: Well, minerals, rather than chemicals..
Phil: Well, yeah, minerals  of all kinds are not just chemicals. Good minerals are diamagnetic. A lot of diamagnetic minerals are good as well
as sand which is diamagnetic.. so if you have the right kind of sand in a stream you have tremendous relaxation.
Joe: Quartz is diamagnetic and iron is paramagnetic.
Phil: Anything that's rust which is iron oxide of course is paramagnetic and water is diamagnetic. Most of the rocks in rivers and streams are a mixture of the two. The smooth pebbles in the stream are diamagnetic and the rough ones are paramagnetic. I always go to a stream and pick up a rock and if it's smooth it's diamagnetic and if it's rough it's paramagnetic.
Joe: You said something that I always wondered about. You can't magnetize a ball, but you can magnetize anything that's got points on it.
Phil: Anything that's rough, when you look at it under a microscope like those balls, there's lots of little points. It's like millions of antennas, so it's powerful.
Joe: I found they're more powerful when I mix sapphires with it when I grind them up. Now why would sapphires be more powerful?
Phil: Well, sapphire is highly diamagnetic. It's probably a CGS of minus two hundred instead of a minus seventy, so it's very diamagnetic. The stronger it is paramagnetic and diamagnetic the more powerful it is. If you use basalt, which is higher than pink granite for paramagnetism, it'd be even stronger. If you get up to fourteen thousand that's really strong. Basalt is about fourteen thousand which is really strong. Pink granite is only three or four thousand.
Joe:. I mixed pink granite with magnetite and I'm getting about nineteen thousand.
Phil: Pink granite is real good.
Joe: Tesla said about this granite bed. He said if you want to charge these purple plates you have to put them on a bed of granite. Then you have to use Tesla coils.. high electrical power and leave them there for at least twenty-four hours.
Phil: If you really want to charge something up you have to put more electricity into it, store it, and then cut it off. It charges and gets stored. You can charge this up (Phil picks up the container with the paramagnetic rocks, nail, and antenna) using a Racine motor for a couple days and it'll be ten times stronger.
Joe: I had taken this iron oxide and put it on a band-aid and then on a florescent tube where the power's coming in and it doubles the life of the tube.
Phil: Oh sure, it'll double the life of anything. It'll double your life. If you die at sixty you won't live to 120 if you had paramagnetics around you, but you'd probably reach ninety or older. If you put these in your pocket you'll never get sick.
Joe: Birds can actually peck out the paramagnetic out of the soil and eat them.
Phil: Yeah, birds know all about that.
Phil: Oh yeah, if you kill a chicken and open its crop, you'll fnd paramagnetic stones.
Joe: Is this why birds like parrots have such long life spans?
Phil: Yep.
Joe: What about turtles, is this why they have long life spans?
Phil: The water is going in through their nostrils. That's why turtles are so long lived because they live in a paramagnetic environment. Unless it's polluted and then they die. It's not uncommon for a turtle to live over a hundred years. I had a box turtle.. my mother got tired of it (to Winnie) didn't we let it go?
Winnie: You took it without telling her..
Phil: How 'bout that. I forgot about my mother. She fell in love with that turtle. It was a tortoise which is a land turtle. I wasn't even thinking of her. It'd probably live to about a hundred and ffty years old. It's probably still out there in Gainesville.
Winnie: No, we took it on the road with us.
Phil: Oh yeah, it's in a marsh somewhere in Texas. There's a lake somewhere..
Winnie: We didn't tell her we were doing it. She forgot about it.
Phil: I hoped she forgot about it.
Joe: I heard a joke one time about a fellow who sent his mother a parrot. He come home and says, "where's the parrot?" The mother says, "why?" He says, "Well, that parrot was a real special parrot.. it understands six languages." And she says, "Well, I killed it for dinner and it didn't say nothin'.." (All laugh)
Phil: The natives in South America eat parrots all the time. You give a parrot to a South American and he'll be liable to cook it and eat it. They make real good eatin'.
Joe: We went on a cruise and at this one place they had some iguanas and they had a deer on a string. I asked about it being fresh and they said they don't have refrigerators. I said okay, that's our food.. that's dinner tomorrow. She was fascinated with the people down there and how industrious they were. We went down to an adobe making place and the man there had a wheelbarrow without a wheel. He just had a shovel and bring water in to make the bricks. It didn't take anything to make a livin'.
Phil: I used to watch them making those things in Texas. I grew up in Tennessee and Texas actually. My grandmother lived in El Paso, so I spent all my summers there. I watched them make adobe in the summer.
Joe: They used to bring us clay and mix it water and get it going real good. Then they'd put a little water and then lay it over these women's legs then shape it around the leg. Then they'd drill a hole and use a dull butter knife to cut around it and then they'd lift it up to lay it over there. And they were making tile for the roof! They'd have a skinny lady here and a heavy one over there.
Phil: Different sized tile for the roof.
Joe: I was pretty young in those days and I'd watch those girls.. it was pretty unbelievable. They make that tile pretty close to the site.
Winnie: Didn't that hurt their legs?
Joe: No, they put water on them and they'd do that all day long. One right after the other..
Phil: It was making them healthy too. They put all that paramagnetic clay on them.. they never got sick.
Joe: They'd stack it up all over there and bring in dung and roots.. anything they could burn and put it all on top of the tiles and bake them.
Phil: I'd seen indians do that in the jungles. The indians would do all sorts of strange things. The shaman too. I couldn't fgure out what the shaman was doing.
Joe: The thing with these people of the jungles was feast or famine. All the food would come out at one time. All the fish would come at one time. There were periods for the elite. They hang these fish up and it would be very humid. They built fires around it and tried to smoke it, but the maggots would get in. And when you come in.. you're a special person and they want to do something nice for you.. and they pass out this rotten fish and you're supposed to eat it. I used to take this charcoal and eat it with the fish. And if you don't do that with those people..?
Marilyn: You've offended them.
Joe: You.. offend them. They done the very best for you. If they get out of their bed so you don't have to sleep on the ground you better sleep on that bed.
Phil: The Jewish people of Palestine had some kind of food. I guess you'd call it oatmeal or something. Bruggle they called it. God, I used to hate bruggle. I used to sneak it behind my back and put it in my back pocket.
Joe: The one that would bother me was, Poggi. These old men would be chewing corn and then spit it into this pot. If you were a special person, they'd run it through a piece of cloth and get some of that slime out of it. But to drink that stuff after it was fermented, it would uh…
Phil: Yeah, the taste of it would be enough to kill you..
Joe: ..it was enough to turn your stomach.
Phil: Yeah, it'd turn your stomach. I had to watch that in Israel. I'd have to sneak that into my back pocket.
Joe: As long as you went along with these people and you done the same thing they do, you'd be fne..
Phil: You're fne.. you're fne.
Joe: ..you could get a dart.
Phil: Yeah, you get a poison dart in your back. They wouldn't think of anything but of killing you.. that's for sure.
Joe: I think one of the things.. they can sense fear in a person. And they could also tell if you were sincere. If you had bad thoughts they knew it.
Phil: I lived with the headhunters for fve years every summer. I spent fve summers down with the Ashyari headhunters and got to know 'em real good.
Joe: I got out of there as quick as I could. They're getting real mean there because of these white people and these prospectors and this other stuff coming down there.
Phil: They were mean then because Ashyari headhunters didn't have any use for anybody. I was the only one really ever to go there and live with them. They'd have no use for anyone. They'd kill you just as soon as looking at you. Most people go in there with a gun or a knife.. even a pocket knife. I'd go in there totally unarmed and smiling. They'd look at me as if I was crazy, but then after a while they got to like me.
Joe: People that are crazy.. they treat them a lot better than they do with other people.
Phil: Oh sure. They probably thought I was crazy. I'd come in there laughing and talking and smiling.. I didn't have any weapons on me.  I never had trouble with them at all.
Joe:  They  treat  'em  like  holy  people  even  though  they  were  crazy.
People that's got affictions or something.
Phil: I was real special to those people. I wrote a couple articles about them after the fve years I spent with them. I could probably write a book about it now. There was one assistant shaman.. cause I got so close to the shaman that he got jealous. He was afraid of me and I knew he was afraid of me so I didn't have anything to worry about from him. He thought I was a greater shaman than the shaman.. he hated my guts, but he was afraid to put a poison dart in me. He could have killed me but he never did it. He probably thought that if he did, I'd come back as an eagle and kill him. They always had visions.. because if you take this drug that they had, uh..
Joe: Peyote.
Phil: It's like peyote.. it comes from a tree instead of a cactus, and it's just like it, but it's a different name. They take that drug and got these visions. I took it one night. I never had visions.. I just got sick to my stomach (laughs). I never took that again..
Joe: Well, we're facing some bad times. West Nile disease and things like that. I think the dragonfies we killed with the sprays.. things are out of balance.
Phil: That's what I'm going to try and stop when I get up there. It's a God thing for me to stop all that. When they give me the Congressional Medal of Honor they're going to be forced to hear to me.
Joe: When you start playing with nature and get things out of balance.. now, Rick and Sheri Herrera de Frey made a fortune, and became very
very wealthy raising ladybugs and raising little wasps and things like that.. they save the world.
Phil: Sure..
Joe: They sell them all over the world. They got a ten acre facility on the backside of the Catalina's called Arbico Organics.. I visit them once in a while. They're great advocates of you. You wouldn't believe it, you're books are lined up on the shelves. Sheri and Rick sell these bugs all over the world. I'm going to go back to them and try to them to get a hold of you and they'll probably call you. They got this West Nile, and dragonfies would do that or..
Phil: They got the cure for it right there.
Joe: Bats would be a good..
Phil: Dragonflies would be easier to rear and let them go in those areas where there's a problem with West Nile Virus.
Joe: How about Mad Cow disease. That's another one that's getting to be real bad. I think it's a lot worse than we realize now.
Phil: They can stop that immediately. That's just malnutrition in the cow.
Winnie: I thought it was the feed.
Phil: Well, it's in the feed because the feed's all chemical poisoning.
Winnie: It's all bad..
Joe: But if the cow had paramagnetics in it the immune system would take care of it.
Phil: Yeah, it would take care of it. You could put a couple tablespoons of ground up paramagnetic rock in the cow's water, which, of course, is why some cows with paramagnetics don't get sick. I noticed that a long time ago they don't get sick from these streams with the rocks, but the others were getting sick because they aren't protected. That water was not in contact with weak magnetic rock.
Joe: What if you took a ball like and screwed it right on where the pump comes in and flled it with magnetite, and then let the water go right through the screen before it got into the trough?
Phil: (picks up the container with the paramagnetic rock and metal screw with the antenna as an example) All you need is this on the collar of the cow.
Marilyn: I noticed now they have numbers clamped to their ears.
Phil: All you have to do is take that number which is probably metal. I don't know what it is if it's metal or maybe it's plastic.., and smear some Elmer's glue over it and sprinkle some of that paramagnetic rock in the glue..
Joe: It would be nicer  if you  had  a Mobius turned  to the left and squeeze it right in there.
Phil: It's just as simple as taking that metal thing and putting some of that glue on it and sprinkle some of this on it and that would be the end of it. I'm gonna say all this.. I've got a chance of coming out and saying this and getting it out.
Joe: You're making it so cheap that nobody would be interested in it cause they couldn't get any money out of it.
Phil: That's why.. there'll be a guy getting a Medal of Honor saying it. I always wondered why I was getting it and now I know.   God wants people to know about it. I gotta get up there and make a whole speech about paramagnetism. Everyone's gonna sit there and listen to it.
Joe: The world needs it. I can't believe that people haven't taken your book apart already. Remember I told you one time years ago..
Phil: I'm an entomologist. I'm not supposed to know anything about physics.
Joe: ..I got a job when I was a kid when I was about fifteen years old working for Coca-Cola before the war.. World War II. And they decided to raise the price on cases of bottles for deposit. And so they branded them. Remember I told you they branded a case with an iron brand? The ones that came back with a brand was worth more money than the ones that weren't branded. Mr. Martin was a pretty sharp businessman, but anyway he was making money on that too. My job was to make sure they were branded or not. I ended up making a little sensitive magnetometer that would tell me if the cases that went by were branded or not. I was getting enough magnetite from the burns to be able to measure magnetics. I learned to measure real low frequencies of metallic in that. But even when transferred from a hot iron to a piece of wood you could actually detect the paramagnetics.
Phil: The man who discovered that is a man named John Bindel. He was one of the greatest scientists that ever lived. He carved something out of wood one time.. he had made a CGS meter out of vacuum tubes.. a huge thing.. it wasn't as good as mine because he didn't have solid state physics back then. They had transistors by then, but it  was  a  good enough CGS meter. He sat there watching and saw that this wood was jumping all around.  He looked at it and looked at it then finally realized it had been branded with a copyright.. a little iron oxide transferred by the hot iron. Who ever had it in the lumber yard put his name on , so he'd know it was his lumber. That little bit of iron oxide from that iron made that piece of wood into a compass. It would turn around and point to north observing that there's a weak magnetism. He didn't call it anything.. he didn't know what it was. I got some of his earlier books. He's a mountain climber of which his frst book was on mountain climbing, but he wrote six books. One of them was called "Heat is a mode of motion." That was his greatest scientifc book ever written. But, they just sort of ignored him. That's where I learned most of what I know about infra red and nobody ever improved on it. Bindel was probably the greatest scientist that ever lived.
Joe: You're branding wood like that with an iron and leaving some of the paramagnetics in it, but what about the burnt carbon?
Phil: The burnt carbon is neutral because it's diamagnetic, so it's just like the wood. A lot of ranchers noticed when they branded a cow they had a lot healthier cow. A rancher told  me that back when I was in agriculture. Branded cows were always healthier than the ones that weren't branded.. they had more energy because of the paramagnetic transference of the iron in the brand.
Joe: I have a real hard time branding women though. Would that make them healthy?
Winnie: Yeah, (laughs)
Phil: All you have to do is carry that in your purse.
Joe: Make a necklace out of it.
Phil: The best way is to get a quartz crystal and smear it with Elmer's glue then rub some paramagnetic powder until it gets into the pores of the quartz. It'll impregnate the little pores of the quartz and you'll never see it except under a microscope, of course, and it'll never wash off. Get some paramagnetism into it and hang it around your neck.. you'll never get sick.
Joe: You know how they put silver on coins now. They do it with implosion.. they blow it on. The silver is so thin when they make that little explosion over the coin, all the silver is pointed upward, then, it's aligned and it won't wear off. Plating is different because it's like sheets that'll peal away, but when you blow it on, such as with silver, it's more permanent. Now, why couldn't you do that with magnetite and quartz?
Phil: You can. If you wanted to make a fortune helping people to get healthy, you just blow silver onto a crystal..
Joe: Some magnetite.
Phil: With some magnetite onto a crystal.. you'll have a healing device.
Joe: That would all be under pressure.. that would be a piezo effect.
Phil: When I was into survival when I was behind enemy lines, I'd fnd a rusty tin can and scrape the rust into my water and I'd never get sick. I was eating all kinds of bad stuff.. you might pick water cress out of the stream but you wouldn't know if there was a cow up stream. You gotta be real careful but I never got sick. I just made sure I had paramagnetics in me.
Joe: If they were eating charcoal tablets with iron oxide in it that would be a beautiful..
Phil: Beautiful.. charcoal and iron oxide would cure for anything. If you put that into somebody's orange juice it would cure them of leprosy in a week.. which I did.. I cured 30-40 lepers when I was in the far east. They thought I was the greatest doctor there ever was
Joe: Almost like Jesus.
Phil: Yeah, the natives didn't care if the regular doctors liked me or not, they couldn't care less.. I cured people. The medical profession hates my guts and still do. The AMA won't even look at my stuff.
Joe: They can't profit on it.
Phil: No money in it. Anybody can go out and get granite or basalt.
Joe: Well, I fell in love with this iron oxide. I fell really in love with it.
Phil: This house is a pre manufactured house. There's no value in it. You can buy a house ten times cheaper
Joe: But you put magnetite in the walls.
Phil: Yeah, I did.
Joe: There's a man named Tom Brown who built a home in Oklahoma City. I shipped him the magnetite and he put it in the walls and oh man, he's got a beautiful house.
Phil: I just sprinkled a little of it in the plaster. And people say there's not enough there. And I say, "do you believe in transistors?" "Oh yeah I believe in transistors," they'd say. Well, you take a transistor, and it's a crystal, it's germanium and you drove it with four or fve molecules of iridium arsenide and you got a transistor.
Joe: Just a coating.. just a splattering.
Phil: You got a transistor.
Joe: They take a piece of quartz crystal just like that and they apply a coat of gallium arsenide.. just a tiny coating of it and it'll collect sun and turn it into electricity. A solar cell.
Phil: That's what a solar silver cell is. It's real easy to make a silver cell. That's what I was doing in World War II. I don't say this when Winnie's around because she doesn't want to hear about the IRA, but the IRA wanted to kill me. Not only did I have a parrot that could tell me that they were coming, but I had a little radio receiver in my pocket that was run by a rock. It would start buzzing in my pocket and they couldn't get close to me.  If the parrot didn't say something, just a tuned circuit run by a piece of basalt would save me.
Joe: A quartz radio set?
Phil: A crystal set using a rock crystal that would work like a quartz crystal, but with basalt.
Joe: I can't talk about it with Winnie because she doesn't like how I talk about the IRA. I'll probably write a book about it.
Joe: You got a dozen books in ya.
Phil: I got eighteen books already. I need to write one on terrorism. I already got it written but I need to send it to Acres.
Joe: Bruce Halstead was worried about this. Halstead said we're so easy to poison. He said that if these terrorists pick up on these  and transfer these frequencies of poison into the things we think are safe, like aspirin, they wouldn't even have to break the seals.
Phil: They won't do it though. I found out that God's got a program that will disable stupid people. Terrorists could read all my books. I've got all the frequencies waves of poison in my eighteen books, but they're too stupid to do it.
Joe: You think God built in this protection.
Phil: God has built stupidity into evil. So there's no problem. Otherwise I'd be dead. If terrorists weren't stupid I'd be dead. God, I parachuted behind German lines.. I got away from the IRA easy..
Marilyn: Dr. Deal, you know, says that thoughts you think are the most important thing. They're extremely strong.
Phil: If terrorists weren't stupid, I'd be dead.
Joe: I always thought that God just took care of drunks, little children, and people like me.
Phil: I believe He does… Like you and me.
Joe: I shouldn't be alive. I mean I should have been killed a half-dozen times.
Marilyn: It sounds like Dr. Callahan here should have been dead more than a dozen times.
NOTE: Both men have averted death several dozen times in their lives each.
Phil: You're probably not as healthy as I am. I don't know if you're overweight..
Joe: I am overweight. I just eat too much.
Phil: I have a high rate of metabolism. I probably eat as much as you do, but I metabolize it. It just gets burned off. I never sit still for long.. I'm sitting here now, but I'm usually up doing something.
Marilyn: Lately he's been spending too much time sitting on the couch.
Joe: I've been a couch potato.
Phil: You gotta be careful what you eat. Start eating right and put paramagnetic dust in your water. You make one of these paramagnetic containers and carry it in your pocket and it'll keep you from over eating.
Joe: Suppose I take some crystals and I put some frequencies in there and I take a Viagra and squeeze it between some rocks and leave it under pressure?
Phil: Probably get stronger. That's a lot of work just to make it.
Joe: I'm thinking about that Viagra. I might be making that.. I think you can get the same frequencies..
Phil: You can take Viagra which is a good medicine that puts out real good frequencies obviously and put it one of these things and you'll live about ten years longer.
Joe: You know what Viagra is? It's Nitrous oxide.
Phil: Is that all it is?
Joe: That's all it is. It's as simple as zeolite in Johnny Cat kitty litter. It absorbs the gases. For Viagra, they put together and press it. That's all it is.
Phil: Some smart guy thought it up.
Joe: I think that the guy that thought it up was in Hot Springs Arkansas. All he did was bubble nitrous oxide in water and called it Happy Hollow water. All these old men would come around and drink the water and what it did was help the blood circulation. Nitrous oxide, we've known that for years, but then kitty litter absorbs the gases like ammonia.. it pulls it right in.  We've known that when Pfzer bought the place down there in Bowie, Arizona, that makes zeolite. We went down there the last time and they had locks on the place. You couldn't even get in.
Phil: That's kind of funny 'cause my father retired in Hot Springs because he used to believe in that water, but he died from cigarette smoking. My mother,  however, lived to ninety. She  didn't smoke, of course.
Joe: I sold a lot of this iron oxide to Reynold's Metal Company and they took it up to Area ffty one in Nevada. They used it for screening around radiation.
Phil: Yep, that'll stop radiation. I suggested that to them. That's why this country can't grow so much.. this area measures about two or three thousand CGS and that's why we grow so much plants around here, but in other deserts don't grow anything because there's not enough paramagnetic rock.
Joe: Sedona has about three thousand CGS. but the strongest I've measured is in Central Arizona right under Black Mountain and that's where I get that stuff I'm getting.
Phil: That's probably getting ten thousand or more.
Joe: Nineteen thousand.
Phil: Nineteen thousand. That Black Mountain is the sacred mountain to the Navajo Indians.
Joe: Sure is, but anyway that whole mountain is iron. There's something about the sunlight. Iron will run ten, ffteen, and twenty percent. But then when it works it's way down.. there's something about the sunlight. This stuff has been washing through the washes for years and years and years and the sunlight enhances it.
Phil: Right. Paramagnetism stores up sunlight. This container is storing up sunlight in this room here. With the fan going up there you got an electrical energy too, so it's really strong in this room.
Joe: So, the movement of the fan creates eddies or currents in the air that transfers magnetic energy.